Towards Greener Concrete: SU Students Develop an Award-Winning Method for Recycling Construction Waste Concrete
With the numerous urban renewal projects on-going in so many Istanbul neighborhoods, the amount of construction waste concrete being produced is a massive concern. When cement is mixed with water to form concrete, the constituent materials undergo irreversible structural and chemical changes to form new hydrated phases, which impart the strength that makes it attractive as a construction material. Unfortunately, this new material is not re-usable, as it no longer reacts with water. Rather than simply dumping this concrete waste into landfill, the "ReCement" team—Sorour Semsari Parapari (MAT-G), Hazal Batili (MAT '16), Noyan Ozkan (MAT '18), and Deniz Anil (MAT '16)—developed a method for recycling waste concrete that won them 1st place in the "Betonik Fikriler" Project Competition on May 2nd, 2016, organized by AkcanSa.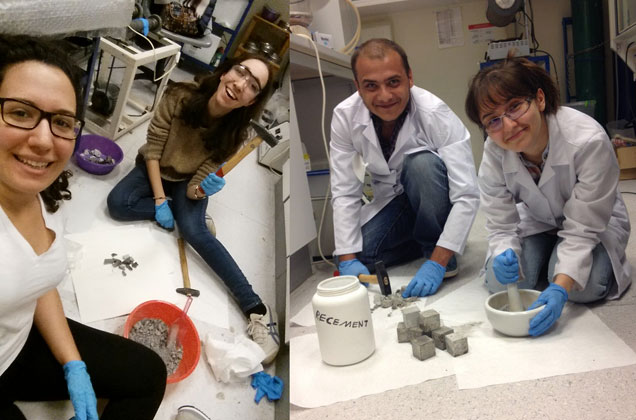 Their winning approach was to heat treat waste cement, having been well-ground into a fine powder, at temperatures high enough to reform the structure of the primary materials. After determining that the thermal properties of their test materials system allowed processing at temperatures more than 500°C lower than those required for the raw materials, the researchers proved the feasibility of their plan by using actual waste samples and establishing that the material composition of the recycled cement ("ReCement") is comparable to that of the original cement. They further demonstrated it is possible to use other waste materials, such as blast furnace slag, in the processing.
While simultaneously lowering raw materials consumption and materials cost by recycling construction waste concrete, the ReCement team have developed a process that also consumes substantially less energy to produce sustainable concrete!