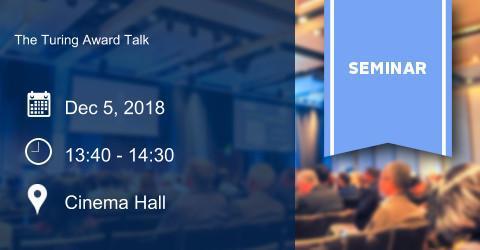 Speaker: Erkay Savaş
Title: The Turing Award Talk
Date/Time: December 5, 2018 / 13:40 - 14:30
Place: Cinema Hall
Abstract: The Turing Award, generally known as the "Nobel Prize of computing", is annually given to recognize major and lasting contributions to the computer field. The award is named after Alan Turing, a British mathematician, who is often credited as one of the key founders of computer science. In this talk, we give a brief account of computer science history and some highlights of the contributions of Alan Turing to the field. Then, we will present an overview of the award and mention some of its recipients. Finally, we will focus on the last recipients, John L. Hennessy and David A. Patterson, whose books on computer architectures are used as textbooks by majority of computer science departments around the world. Their most important invention is what is now known as Reduced Instruction Set Computer (RISC) architecture, which promotes the use of simple instructions in microprocessors. The RISC architecture, unexpected winner against Complex Instruction Set Computer (CISC) supported
by the giants of the microprocessor industry, come to dominate the microprocessor market, in which 99% of 16 billion annually manufactured microprocessors are RISC. We will explain the basics of computer architecture and show how RISC, which can be considered as a design philosophy, pave the way to unprecedented progress in microprocessors in the last 30 years, which power not only our servers, desktop and notebook computers, but also embedded systems, IoT devices and thus enables the ongoing industrial revolution: Industry 4.0.
Bio: Erkay Savas received the BS (1990) and MS (1994) degrees in electrical engineering from the Electronics and Communications Engineering Department at Istanbul Technical University. He completed the PhD degree in the Department of Electrical and Computer Engineering (ECE) at Oregon State University in June 2000. He had worked for various companies and research institutions before he joined Sabanci University in 2002. His research interests include applied cryptography,
data and communication security, privacy in biometrics, security and privacy in data mining applications, embedded systems security, and distributed systems. He is a member of IEEE, ACM, the IEEE Computer Society, and the International Association of Cryptologic Research (IACR). He is currently an Associate Editor to IEEE Transactions on Computers and Journal of Cryptographic Engineering.
Contact: Öznur Taştan& Semih Onur Sezer& Erdinç Öztürk & Emre Özlü & Emre Erdem & Selim Balcısoy