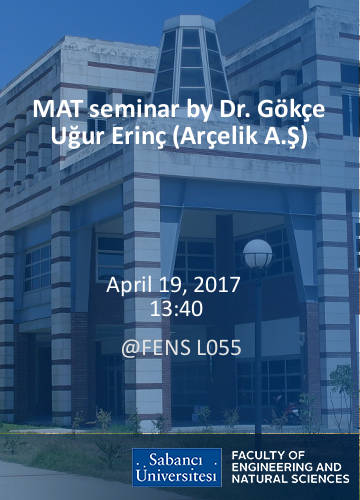 Please join us for the MAT seminar by Dr. Gökçe Uğur Erinç (Arçelik A.Ş) on April 19 (Wednesday) at 13.40 (FENS L055)
Please not that : MAT students must attend Lab Safety Training (if you have already attended the training, you don't need to take it again) in order to get access to MAT labs in which new card readers are installed; just before this seminar on 19th, Wednesday , 13:00-13:40 in the same class.
About:
Gökçe Uğur Erinç got her Bachelor's degree in Materials Science and Engineering, at Sabanci University in 2004. She completed his PhD at the University of Akron which is recognized to have one of the best polymer science programs in the world. She has designed, synthesized, and characterized a wide variety of polymer brush structures as the basis of her PhD work. Following her PhD, she has worked on photo- and thermo-responsive "smart" polymers, super absorbent polymers (SAP) during her postdoctoral stay at the University of California, Merced. During her 10 years in USA, Dr. Erinç has got research experience in the area of surfaces and interfaces of polymeric thin films, responsive polymers (polymer brushes, hydrogels, photo-responsive films), nanostructured materials and investigating their structure property relationship. She has been working as a senior R&D specialist in Polymers & Chemistry divison of Materials Technologies in Central R&D in Arçelik A.Ş since 2014. She has been working in research projects related to novel technologies, sustainable quality improvement and cost reduction regarding engineering plastics used in appliance products. She is responsible for supporting production, quality assurance and purchasing departments by means of troubleshooting regarding specific or common problems related to polymeric materials and selection of plastic materials for novel design appliance products. She has been working on absorbent and phase change materials formulations for energy efficiency in white goods. She has been leading one European Union 7th frame project named 'Phoenix', and 2 Horizon 2020 projects named 'Nanohybrids' and 'Inpath-TES'. She has been mentoring undergraduate and graduate students, co-advising graduate students for their MSc thesis.