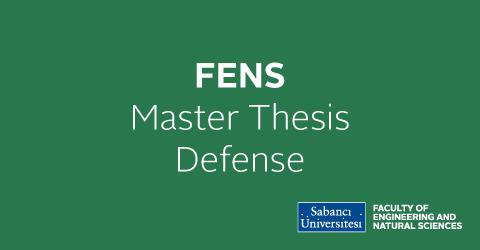 MONITORING AND IDENTIFICATION OF PROGRESSIVE DAMAGE IN FIBER REINFORCED COMPOSITE STRUCTURES USING NON-DESTRUCTIVE TESTING
Utku Güçlü
Materials Science and Engineering, MSc. Thesis, 2019
Thesis Jury
Assoc. Prof. Dr. Mehmet Yıldız (Thesis Advisor), Assoc. Prof. Dr. Burç Mısırlıoğlu,
Assoc. Dr. Bertan Beylergil
Date & Time: January 3rd, 2019 – 1 PM
Place: KTMM 2. Kat Toplantı Odası

Keywords: structural health monitoring (SHM), non-destructive testing (NDT), acoustic emission (AE), infrared thermography (IRT), digital image correlation (DIC), damage progression
Abstract
This study focuses on the connection between damage progression and non-destructive testing techniques to evaluate the feasibility of these techniques for structural health monitoring. To this aim, three different techniques were selected deliberately due to their focus on detecting the three different manifestations of energy that originates from damage. Feasibility of these techniques were investigated under static loading conditions with two different stacking sequences of the same carbon reinforced composite structure. Static loading conditions were selected to have more consistent progression of damage. Dynamic testing endures acoustic and thermal noise that originate due to failed components that are under friction. Therefore in order to understand the acoustic emission and thermal behavior of any material, static loading conditions enable cleaner conditions. Motivation behind using multiple stacking sequences is to understand the behavior of non-destructive testing techniques under exact changes on the structure of the sample. Since experimental setup is always kept consistent, data gathered is the reaction of testing techniques towards controlled changes in the sample.