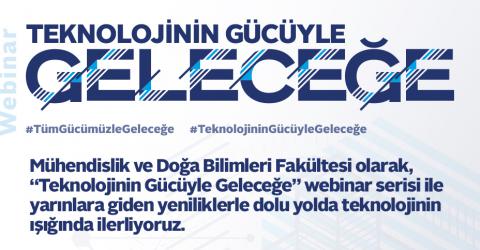 Speaker: Kürşat Çağıltay
Title:İnsan Bilgisayar Etkileşimi ve Göz Hareketleri Takip Teknolojisi
Date/Time: 25 May 2023 / 19.30 - 20:30
Zoom Link: https://sabanciuniv.zoom.us/j/97391248451
You can also follow the webinar on the Sabancı University YouTube account.
https://youtube.com/live/lLEKsog8bt8
Abstract:Gözler, zihnin penceresidir ve dünyayı algılamamızda en önemli yeri tutmaktadır. Bu yüzden, göz hareketlerinin izlenmesi ve kaydedilmesi beyinde gerçekleşen süreçlerin anlaşılması için kullanılan etkin yöntemlerden biridir. İnsanların bir bilgisayar arayüzünde ya da çevrelerinde bir bilgiyi ararken nereye, ne kadar süre ile baktıkları, hangi bilgiyi göz ardı ettikleri hakkında objektif ve nicel veriler göz hareketlerini izleme teknolojisi (Eye tracker) yardımıyla elde edilebilmektedir.Göz hareketleri izleme cihazları bilgisayar ekranı karşısında oturan kullanıcıların ekranda nereye, ne kadar süre ve kaç kere baktığına, anlık ve geçmiş dikkatinin nerede yoğunlaştığına, niyetine ve zihinsel durumuna ilişkin bilgi sağlamaktadır. Bu sayede bilgisayar arayüzlerinin daha verimli ve etkili hale getirilmesi hedeflenmektedir. Göz hareketleri izleme cihazı ile sadece ekran karşısında değil her ortamda kişinin çevresi ile olan etkileşimi sırasında nereye baktığı da kayıt edilebilmektedir. Örneğin, araç kullanan bir kişi trafik işaretlerine dikkat ediyor mu ya da bir markette alışveriş yaparken hangi raflara/ürünlere yoğunlaşıyor gibi konularda gözün fokuslandığı yerler kayıt edilip daha sonra analiz edilebilmektedir. Göz hareketleri takip teknolojisi ile bilgisayar sistemlerini sadece göz hareketlerimizi kullanarak kontrol etmek de mümkün olmaktadır. ALS ya da kas hastalığı gibi sağlık sorunu olan bireyler bu sayede bilgisayar kullanabilmekte, üretim yapabilmekte ve ihtiyaçlarını konuşamasalar bile aktarabilmektedirler. Bu seminerde göz hareketleri teknolojisinin temelleri anlatılacak, geliştirdiğimiz projelerden örnekler verilecek ve gelecekte hayatımızı etkileyecek yönleri hakkında bilgiler paylaşılacaktır.
Bio: Dr. Kürşat Çağıltay ODTÜ Matematik Bölümünden 1988 yılında bölüm birincisi olarak mezun olmuş, 1993 yılında ODTÜ Bilgisayar Mühendisliği Bölümünden Yüksek Lisans derecesini almıştır. 2002 yılında ABD'nin İndiana Üniversitesi Öğretim Teknolojileri Bölümünden ve Bilişsel Bilimler Programından çift dalda doktora alarak mezun olmuştur. 2002-2022 tarihleri arasında ODTÜ Bilgisayar ve Öğretim Teknolojileri Eğitimi ve Enformatik Enstitüsü Bilişim Sistemleri Bölümlerinde öğretim üyesi olarak çalışmıştır. 1988-1997 yılları arasında ODTÜ Bilgi İşlem Merkezinde Bilgisayar Ağları grup yöneticiliği görevi ve ODTÜ-TÜBİTAK tarafından başlatılan ve 1993 yılında Türkiye'ye Internet'i getiren ekibin teknik grup yöneticiliğini yapmıştır.Türkiye'nin endüstri standartlarında ilk İnsan Bilgisayar Etkileşimi Araştırma Uygulama Laboratuvarını kuran Prof.Dr. Kürşat Çağıltay'ın akademik araştırma konuları insan bilgisayar etkileşimi, göz hareketleri takip teknolojisi, teknoloji ile zenginleştirilmiş öğrenme, sanal/artırılmış gerçeklik, eğitsel nörobilim, sosyal enformatik, performans teknolojileri ve eğitimde elektronik oyunların kullanımıdır.